52-Port Gigabit Managed PoE Switch
52-Port Gigabit Managed PoE Switch
The HR-SWTG3448S is a high-performance 10-gigabit Layer 3 managed Ethernet switch, boasting robust data switching capabilities, an extensive array of network management features, and product-specific business characteristics. This product utilizes industry-leading 10-gigabit network switch chips, equipped with 48 Gigabit Ethernet ports and 4 10-gigabit SFP optical ports. It supports a multitude of business functions, including routing, VLANs, multicast, storm suppression, DHCP, access control, Spanning Tree Protocol, Quality of Service (QoS), ring network protection, link aggregation, and more. Additionally, it offers various maintenance and management methods such as USB quick configuration, command-line interface (CLI), and web-based management (WEB), ensuring comprehensive security control policies and network protection mechanisms. This flexibility allows for deployment tailored to actual business needs and is widely applicable in various large to medium-sized network aggregation and core layers, enabling users to establish flexible, convenient, stable, reliable, and easily maintainable data communication networks.
    Model: HR-SWTG3448S
    Category: Managed Ethernet Switch
48 Gigabit Ethernet ports + 4 10-gigabit SFP optical ports + 1 Console port + 1 USB serial port
Store-and-forward switching mechanism, with a total switching capacity of up to 336Gbps
Layer 3 network management, supporting functions such as routing, DHCP, VLAN, MAC address management, ACL, QoS, and more
Supports ring network functionality, including ring detection and self-healing capabilities, with a self-healing time of ≤12ms
Supports security control strategies such as 802.1X authentication, ARP intrusion detection, IP source protection, and DoS protection.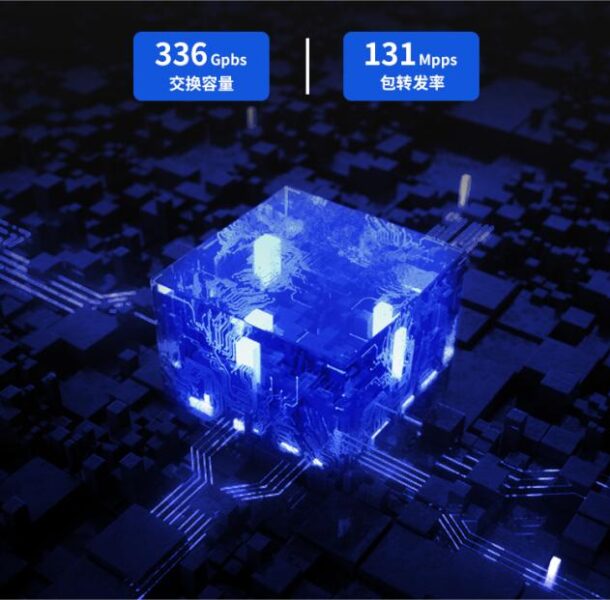 Robust Data Processing Capability
Leveraging cutting-edge 10-gigabit network switch chip architecture from the industry forefront, this switch attains an impressive switching capacity of up to 336Gbps and a packet forwarding rate of 131Mpps, demonstrating its substantial prowess in data interchange and handling.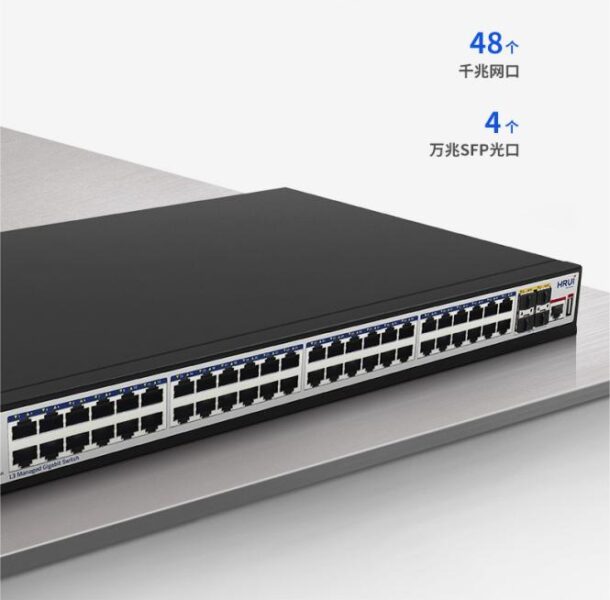 High-speed Connectivity at the Terabit Scale
Featuring an abundance of ports, including 48 Gigabit Ethernet ports and 4 10-gigabit SFP optical ports, this switch offers dense port configurations. All ports support wire-speed forwarding, facilitating Terabit-scale connections with 10-gigabit uplinks, enabling high-speed Gigabit network connectivity.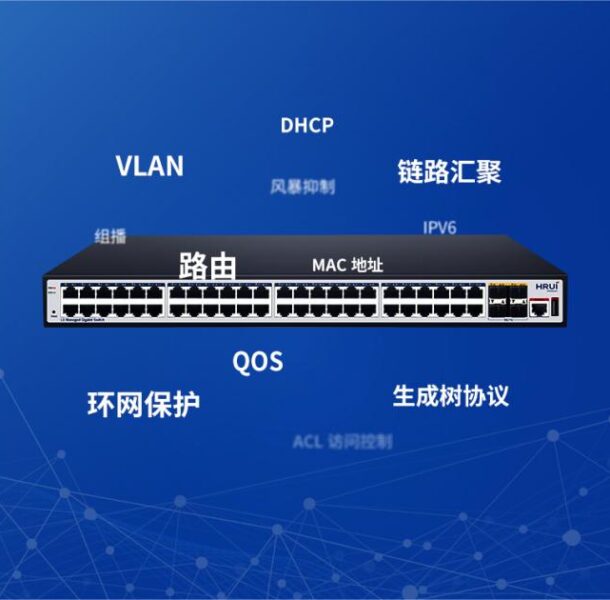 Diverse Product Business Functionality
This switch offers a comprehensive array of business functionalities, including support for routing, DHCP, VLAN, MAC address management, ACL, QoS, Spanning Tree Protocol, multicast, storm suppression, ring network protection, IPv6, link aggregation, and more. These features cater to a wide range of business access, aggregation, and carrying needs, ensuring a robust and versatile solution.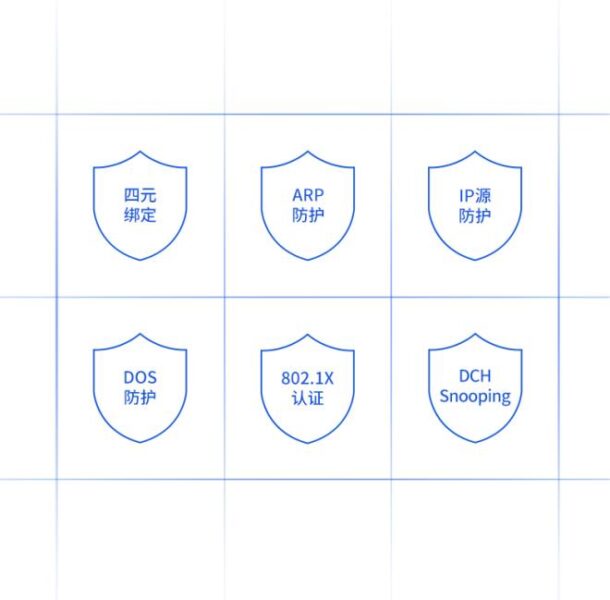 Diverse Security Control Policies
The switch offers a wide range of security control strategies, including IP/MAC/VLAN/port quadruple binding, ARP protection, IP source protection, DoS protection, 802.1X authentication, DHCP snooping, port security, and more. These measures ensure the security of network connections within the switch, safeguarding against potential threats and vulnerabilities.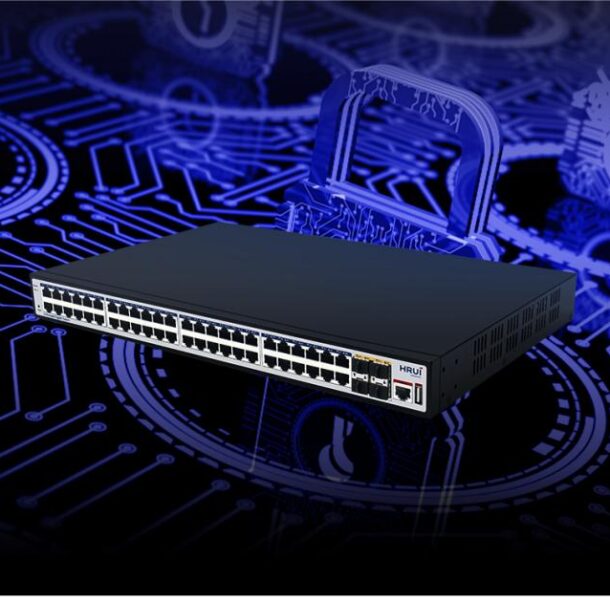 Comprehensive Reliability Protection Mechanisms
The switch incorporates robust reliability protection mechanisms, including support for STP/RSTP/MSTP spanning tree protocols to eliminate Layer 2 loops and enable link redundancy. It also offers enhanced security features within the spanning tree protocol to defend against various forms of malicious attacks. Additionally, static and dynamic link aggregation is supported, effectively increasing link bandwidth, achieving load balancing, and enhancing link reliability.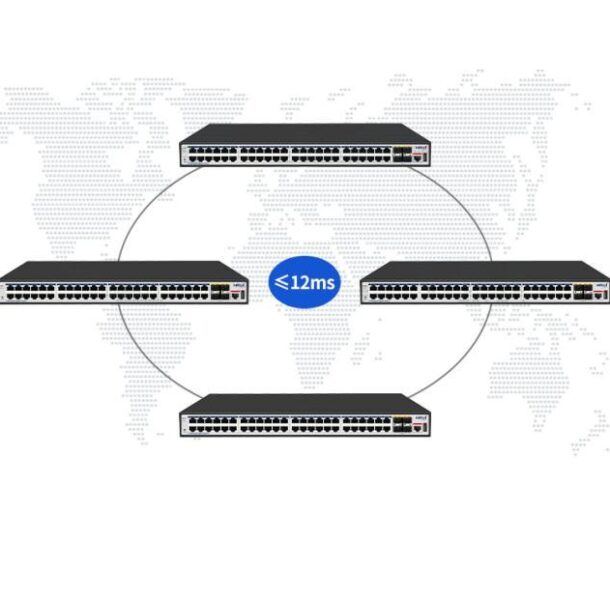 High-speed Ring Network Rapid Self-healing Capability
This switch incorporates support for the ERPS (Ethernet Ring Protection Switching) ring network protocol, encompassing ring detection and self-healing functionalities with an impressive self-healing time of ≤12ms. This feature significantly enhances network and device reliability, effectively eliminating single points of failure and ensuring uninterrupted network service continuity.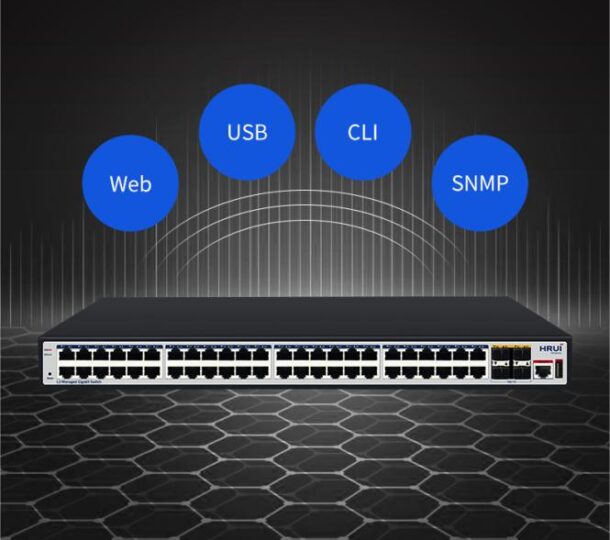 Effortless Operations and Maintenance Management
This switch facilitates effortless operational and maintenance management through various means, including rapid configuration via a USB interface. It supports a diverse range of management and maintenance methods such as Web-based management, CLI (Command Line Interface) via Console and Telnet, as well as SNMP (Simple Network Management Protocol) versions VI, V2, and V3.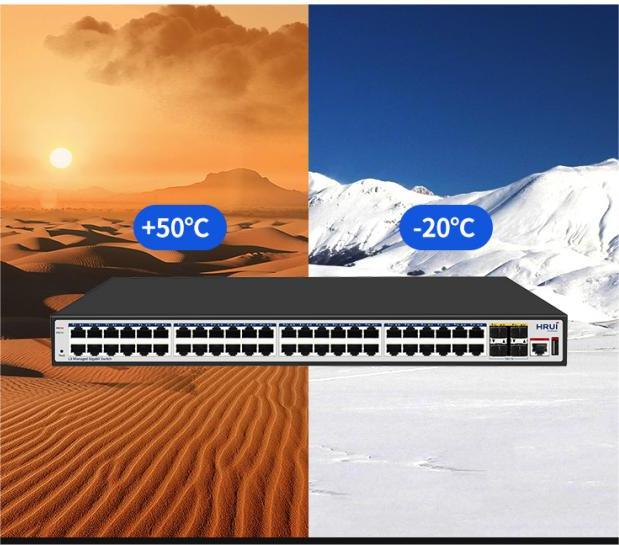 Stable and Reliable Hardware Performance
The switch boasts a robust hardware design with a durable protective enclosure, providing exceptional resistance to ice, dust, and shocks. It offers port protection against 6KV surges and 8KV electrostatic discharge, ensuring high resilience. Furthermore, it operates efficiently within a wide temperature range of -20°C to +50°C, making it suitable for deployment in diverse and challenging environmental conditions.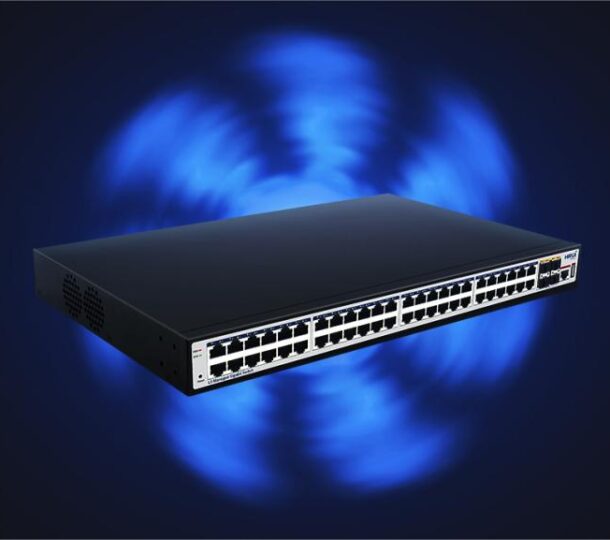 Energy-efficient and Noise-reduction Dual Fan Design
Within the switch, there are two low-noise cooling fans configured, employing an energy-saving design. These fans automatically adjust their speed based on the mainboard's temperature, ensuring efficient heat dissipation while achieving energy savings and noise reduction benefits.